The Benefits of STC Rated Doors
We at GSH are experts in all things commercial doors. Our team is often asked about the benefits of STC rated doors as well as their specifics. To help out, here are are few tips below on what is an STC rated door, along with how to select one that best meets your needs.
STC Definition
STC stands for sound transmission class. Doors and other products may be given two STC ratings. The first is called a "sealed in place" STC rating. The second is an "operable" STC rating. These STC door ratings are tallied using two tests that are conducted with and without a special acoustic putty to help seal the door.
The door's soundproof rating is the loss of sound transmission achieved when using a particular STC door. The sound reduction is achieved through materials and other designs that are intended to absorb and insulate sound, as well as prevent sound passing beyond the door with a barrier. This transmission loss, or TL, is measured in decibels (dB). In short, a door's STC rating can tell you the amount of decibels that will not pass through a door. For example, a normal interior door commonly would have an STC rating of approximately 40 to 50, or enough to partially block a normal conversation.
Did you know? Noise pollution can cause health problems including hearing loss, stress, and high blood pressure?
How to Select an STC Rated Door
The first step to selecting an STC rated door is to determine the decibel level of the noise you want to reduce or eliminate. You may purchase a decibel meter at your local hardware store, online, or you may even use the web or an app to get an approximate decibel level check. With this information you may begin to search for the type of STC door you need.
Those if you with existing doors you want to soundproof may take a few precautionary steps before purchasing a new door that can help reduce sound. These can be done by a commercial door specialist in your area.
Check the door's trim to ensure it is properly installed and insulated. The gaps may be filled with soundproofing material.
Install new weather stripping or check the existing to make sure it the door is properly sealed. This can also help cool or warm air from escaping your business.
Make sure the gap between the door and the floor is also sealed to prevent noise and air movement.
The wall and frame surrounding the door should also be adequately insulated. An uninsulated wall will let sound through no matter what kind of door you use.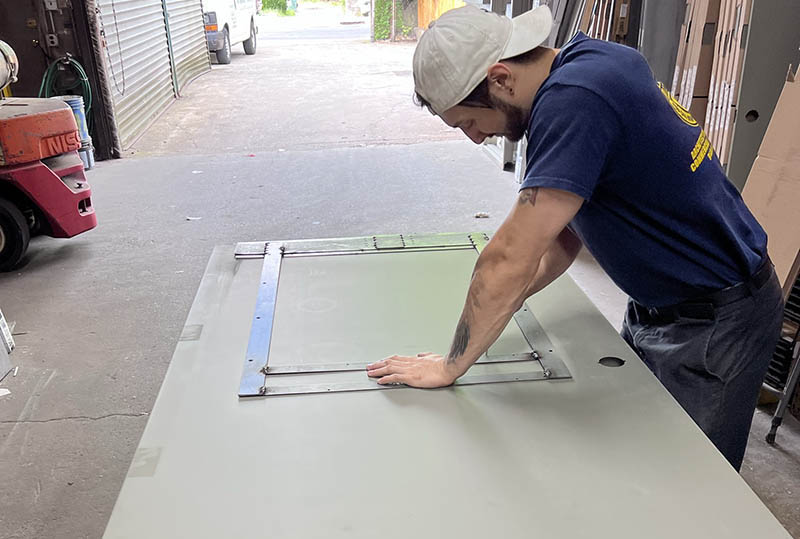 Applications for STC Rated Doors
Many industries can benefit from soundproofing the doors, such as a garage or facility where loud work is done in one area, with administrative work done in another. Other applications include in the music, healthcare, education, military, government, and other heavy industries.
STC Rated Commercial Doors in New Jersey
Feel free to contact our expert team if your business is in need of STC rated doors. We can help you select the right door or doors for your business, frames, and architectural hardware.